Scenic Mesa Lodge
This historic 700 acre property has a long and colorful history  in western Colorado. Named for good reason, Scenic Mesa overlooks the North Fork of the Gunnison River at the foot of the West Elk Mountains.
Located near Hotchkiss, Colorado the property is within easy driving distance to the three world class resort towns of Aspen, Telluride, and Crested Butte. Scenic Mesa Lodge has been an exclusive wing shooting operation, bison ranch, cattle operation and family retreat. Its unique location, mixture of irrigated pastures and desert canyons, and well maintained buildings offer something for everyone.
Four thoughtfully and well sited guest houses overlook the North Fork of the Gunnison  River and the main Lodge and headquarters are accessible and easy to operate.
Beautiful Lodge with commercial kitchen, 3 bedrooms, office, covered porch and large deck
Seven  quality houses including four luxury guest houses on the river  (described below as Scenic Mesa Preserve).
Shooting range, bird rearing cages, bird processing house and equipment, large shop, cattle/buffalo corrals,  feed pens and working chutes.
Very good water rights and 240 irrigated acres. Year around creek and half mile of North Fork of the Gunnison River.
Excellent hunting for mule deer. Trout fishing and duck hunting on the river.
100 minute drive to Aspen. Commercial airport in Montrose 60 minutes. Private airport in Crawford 10 minutes.
$4,500,000
Four Guest Houses on the River:
The lower part of the Ranch has four high quality guest houses with close access to the North Fork of the Gunnison River.
Excellent construction quality, underground utilities, storage building, and orientation taking advantage of views. One half mile of the North Fork of the Gunnison River, both sides. Homes built from 2006-2009 featuring large covered decks, patios, natural landscaping, metal roofs and in-floor radiant heat. Very quiet and relaxing above the river with mountain views. Easy walk to the private river to explore, fish, hunt and enjoy.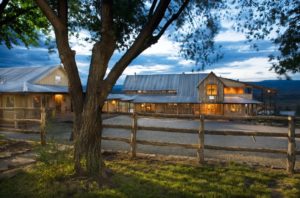 Scenic Mesa Lodge mls